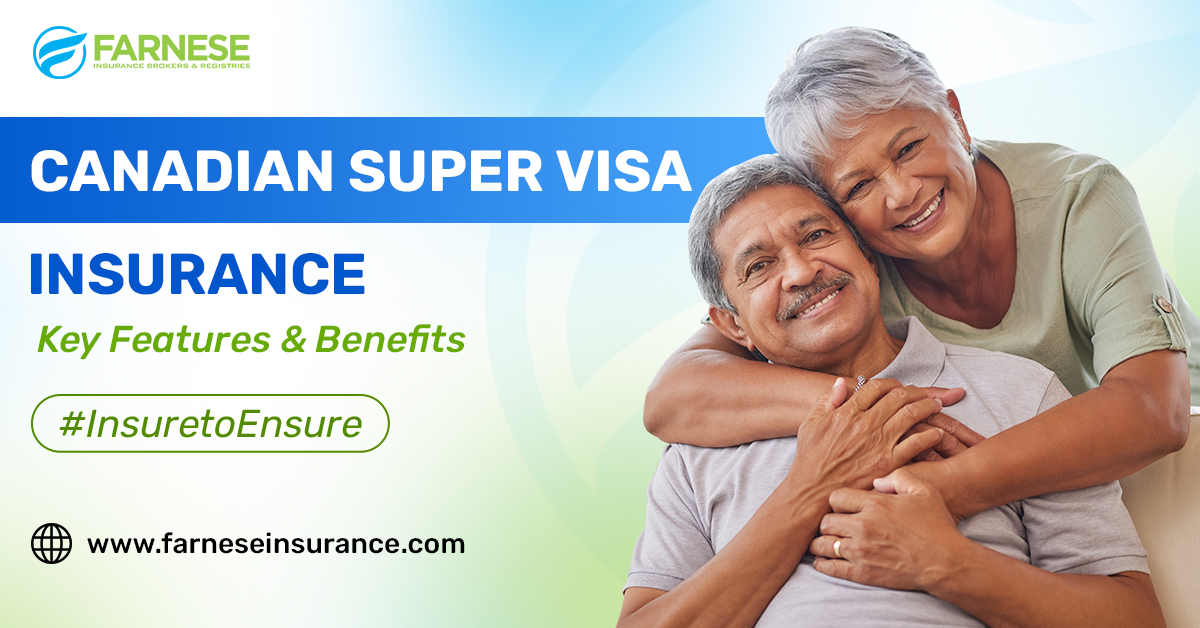 Canadian Super Visa Insurance: Key Features and Benefits
Canadian Super Visa Insurance: This blog is about Canadian Super Visa Insurance and its key features, Benefits.
Canada is a beautiful country with its breathtaking landscapes and diverse culture. On top of that, the country flaunts a robust healthcare system that makes it one of the top destinations for individuals and families to settle down. 
And for the ones already settled in Canada in cities like Fort Saskatchewan, Lamoureux, Josephburg, Scotford, etc., the government has made provisions, in the form of the Canadian Super Visa. 
Canadian Super Visa and Super Visa Insurance
The Super Visa helps Canadian citizens reunite with their loved ones living outside the country. The Super Visa offers an excellent opportunity for the families (parents and grandparents) of Canadian citizens and permanent residents to visit them and enjoy an extended stay. 
The applicants of the Super Visa need to have adequate health insurance coverage to qualify for the Super Visa. And here, we will help you gain insight into the same. Let's have a look at the key features and benefits of a Super Visa Insurance you can get with the help of Farnese Insurance Brokers: 
Key Features of an Ideal Canadian Super Visa Insurance 
Farnese Insurance Brokers are the trusted Super Visa Insurance experts you must reach when applying for your Super Visa. We offer exceptional assistance to the applicants, helping them get comprehensive coverage tailored to their unique needs and requirements. Let's see the key features of an ideal Super Visa Insurance:  
Coverage Against Medical Emergencies 
When the Super Visa holder visits Canada and faces a medical emergency, the Super Visa Insurance they have chosen provides them with adequate coverage. The coverage must be against hospitalization costs, doctor's fees, diagnostic tests, ambulance services, and more. 
When you apply for the Canadian Super Visa, the process is typically simple and straightforward. Most insurance providers offer easy online application options where the applicants can choose their plans, submit their documents, and make payments electronically. Farnese Insurance Brokers will help you find these insurance providers. 

Round-the-Clock Assistance
The providers of Super Visa Insurance understand its importance for the policyholders. Thus, they offer 24/7 assistance and support to their customers. This holds utmost importance in the case of medical emergencies when immediate guidance and support are required. 
Most Super Visa Insurance plans offer a range of options for coverage. These options have different coverage limitations and deductible amounts. For example, some plans will offer to cover dental care, emergency medical transportation, pre-existing conditions, repatriation costs, etc. You can choose a plan that fits your needs and budget by choosing the required coverage only.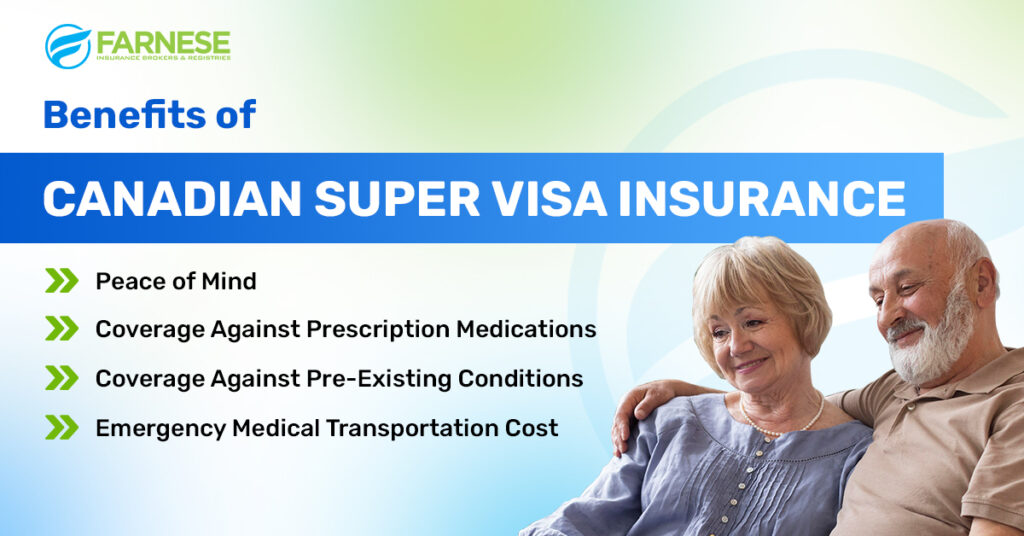 Benefits of Canadian Super Visa Insurance
While having a Super Visa Insurance is mandatory to have your Super Visa, it offers several benefits to the policyholders, making their stay in the country hassle-free from the healthcare perspective. We have enlisted some of these benefits below:
With Super Visa Insurance, the visitors can rest assured that if there is an unexpected health issue during their stay, the same will be covered by their insurance. They can enjoy their peace of mind while visiting the family members knowing that the medical expenses are covered and their financial burden and stress are reduced. 
Coverage Against Prescription Medications
The Super Visa Insurance covers the cost of prescription medications for visitors during their stay in Canada. This coverage is provided by the instance against medications prescribed by a licensed healthcare provider in the country. 
Coverage Against Pre-Existing Conditions 
There are some Super Visa Insurance policies that also provide coverage for pre-existing medical conditions. This coverage is subject to specific conditions and has its limitations. If you're looking for an insurance plan to cover your pre-existing health conditions, Farnese Insurance Brokers will provide you with the needed assistance to find a suitable plan. You must review the policy details to have a complete understanding of how pre-existing health conditions are handled under the insurance. 
Emergency Medical Transportation Cost
If the policyholder is in a severe medical emergency, the Super Visa Insurance provides coverage of ambulance services and emergency medical transportation. This includes the transportation used to move the patient to the nearest appropriate medical facility. 
Besides these, Farnese Insurance Brokers will help you find a Super Visa Insurance that will also cover the cost of your accidental injuries, travel-related health issues, repatriation, etc. 
Conclusion
The Super Visa for visitors to Canada is a great opportunity for family reunification and the Canadian Super Visa Insurance helps make their stay worry-free. With the right partners like Farnese Insurance Brokers, you can make the most of this facility and get your Super Visa in time for cities like Fort Saskatchewan, Lamoureux, Josephburg, and Scotford.
Look for support from the Edmonton Area for Super Visa Insurance Solutions?
Visit: Reliant Insurance Brokers
Comments are closed.